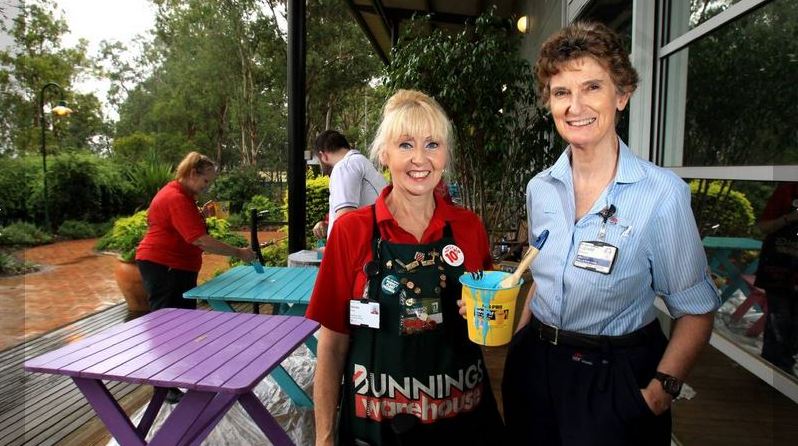 Mount Druitt's palliative care unit brighten by Bunnings volunteers
by Volunteer Hub
March 30, 2017
See the original story by Heath Parkes-Hupton in the St Marys-Mt Druitt Star.
Beneath gray skies in western Sydney on Thursday a rainbow appeared at Mount Druitt Hospital.
Staff members from local Bunnings Warehouse stores donated their time to add a bright coat of paint to tables and chairs lining the verandah at the hospital's palliative care unit.
The unit is home away from home for patients in the final stages of their lives.
Bunnings Minchinbury's activities coordinator Narrele Hunt said the company had worked closely with the hospital for several years.
"We came across this opportunity and we jumped at it," she said. "We just wanted to make this space bright and cheery.
"Obviously the people who are staying here are going through a pretty tough time, so it's nice to brighten up their day if we can."
Ms Hunt said staff members from Minchinbury, Seven Hills, Marsden Park, McGraths Hill and Dural were on hand to apply a new lick of paint.
Taubmans also came on board to donate paint for the day.
"Everyone knows someone who has been here. It's a very important part of our community," she said.
"That's why everybody was so willing to help; it's such a worthy cause."
The nine tables and 12 bench chairs were made by members of Hawkesbury Men's Shed and given to the hospital by Kings Langley Lions Club last year.
Palliative care clinical nurse educator Anne May said 14 beds had direct access to the verandah, which was popular among patients.
"Staff, patients and visitors are so appreciative of the efforts we've seen today," she said.
"This is a very important space for us at the hospital.
"It all fits into our philosophy of living while you're dying. Our patients share this space with their families, creating moments and memories together while they can."
Pic: Narrele Hunt, Bunnings employee and Suzanne Coller, Clinical Nurse Consultant. Pic credit St Marys-Mt Druitt Star.
Upcoming Events
UPCOMING
DECEMBER 7, 2023
10:00 AM - 12:00 PM
NSW Network of Managers of Palliative Care Volunteer Services – December meeting & Christmas lunch
The role of the Network is to ensure best practice for NSW Managers of Pall...
Read more
Become a member of Palliative Care NSW
Palliative Care New South Wales is the peak body in NSW representing palliative care providers and those with an interest in palliative care. Palliative Care New South Wales is a member of the national peak body Palliative Care Australia.
Join today and receive discounts, benefits and more!
Special member rate available for volunteers.
Subscribe to our eNews
Be the first to know our latest new, events, and research!
SUBSCRIBE TO ENEWS