Our team is here to support the palliative care community
Kate Bowman
Manager, Volunteer Support Services Programme
Kate is a pathological volunteer who has contributed many hours of her life pitching in and helping. From humble beginnings on the sidelines keeping score at junior baseball games, Treasurer at her local Playgroup, and President of the School Canteen, Kate spent nine years as a Volunteer Coordinator for Primary Ethics. A penchant for research and social justice led her to complete a Bachelor of Social Science with a major in sociology at Macquarie University. Kate has contributed to several research reports on palliative care volunteering since she joined Palliative Care NSW in 2016 and she is now delighted to champion volunteering professionally as Manager of their Volunteer Service Support Programme.
Kirsty Blades
Chief Executive Officer
Changing attitudes, living life well to the very end, equity, access and quality and supporting health professionals, volunteers and carers. These are just some of the goals that make Kirsty proud to be the CEO of Palliative Care NSW. Kirsty's key ethos is that we can all make a positive difference in this world and for her the greatest opportunity to drive change and deliver impact has been in the NFP & Association sector. Kirsty has a great depth of Association and NFP experience having worked in the sector for more than 20 years and with a number of Associations, NFPs and charities in this time to assist them deliver on their strategic and operational goals. Kirsty has led high performing teams in events, advocacy, marketing and communications, corporate services, member engagement and growth, digital transformation, strategy and innovation. Kirsty is driven by purpose and the opportunity to work for and alongside Palliative Care NSW members to achieve better outcomes for them, the sector and the wider community.
Megan Burke
Deputy CEO
Megan was introduced to Palliative Care NSW in July 2015, as part of an internship program while completing a Masters of Policy and Applied Social Research at Macquarie University, concluding a study on palliative care volunteering in aged care facilities during this time. Since the end of the internship Megan has begun working part-time as a Policy Officer for Palliative Care NSW and is currently investigating the experiences of volunteers in paediatric palliative care, with more projects to follow throughout the year. Having quickly developed an intense belief in the importance of high quality palliative care Megan is excited to learn more about how this sector could be improved and share this knowledge along the way.
Maria Lopez
Communications Officer
Maria joined Palliative Care NSW in May 2022 as the Communications Officer, having previously worked in the Education sector in similar roles. Maria utilises her degree in technology with her communication skills and experience to highlight the fantastic work that Palliative Care NSW is doing throughout the year. Maria is a friendly person who loves to hear from members and the public about their experiences, she is excited about learning more about this sector to be able to spread awareness to many people as possible, and ultimately, serve to the best of her abilities.
Emma Scott-Stevenson
Policy Officer
Emma was introduced to Palliative Care NSW in March 2022, while undertaking an internship program as part of her degree. She is currently completing a Bachelor of Social Science, majoring in Social Justice, at Macquarie University. Her first project examined homelessness and palliative care within Metropolitan Sydney, and assessed the availability and accessibility of such services through a scoping study. Emma has always felt passionately about social issues, and believes that palliative care should be available to all who need it. She is eager to continue working with an organisation who advocates for members of the community.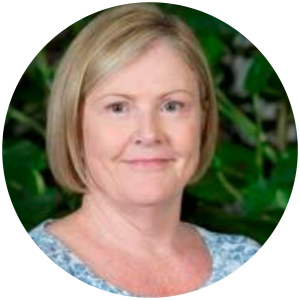 Dr Peta McVey
Palliative Care Service Guide
Peta joined Palliative Care NSW in November 2022. She is a registered nurse with more than 30 years clinical experience in a variety of settings, with extensive palliative care expertise having worked as a senior clinician in specialist palliative care services for 18 years. After completing a PhD which explored palliative care within Residential Aged Care, Peta began working as a Senior Lecturer at the University of Sydney. In this role, she developed, coordinated, and taught into one of the few undergraduate compulsory palliative care units of study in Australia for the Bachelor of Nursing program. Additionally, her palliative care teaching expertise was utilised in the Master of Nursing and post-graduate nursing programs. Peta has contributed significantly to the specialty of palliative care through; her involvement with various national collaborative projects, journal reports/ articles, and for 8 years was a member of the management committee of Palliative Care NSW Association. She has worked with the Commonwealth Department of Health and Ageing and Palliative Care Australia to develop national training resources and contributed to the NSW Upper House Inquiry into registered nurses in nursing homes in New South Wales. Peta joins us as the Palliative Care Service Guide and looks forward to navigating carers, family members and health professionals in the right direction to access appropriate services to meet their needs.
Become a member of Palliative Care NSW
Palliative Care New South Wales is the peak body in NSW representing palliative care providers and those with an interest in palliative care. Palliative Care New South Wales is a member of the national peak body Palliative Care Australia.
Join today and receive discounts, benefits and more!
Special member rate available for volunteers.
Subscribe to our eNews
Be the first to know our latest new, events, and research!
SUBSCRIBE TO ENEWS