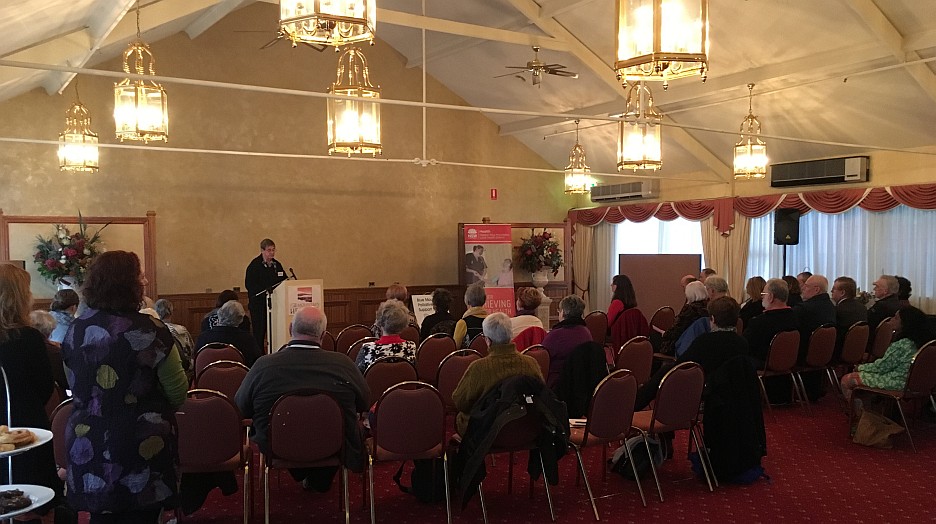 Palliative care volunteers celebrate 30 years serving the Blue Mountains community
by Volunteer Hub
June 7, 2017
Supporters of the Blue Mountains Palliative Support Service gathered today to hear speakers and celebrate the groups' 30th Anniversary. Based at the Mid Mountains Neighbourhood Centre in Lawson, the not-for-profit Blue Mountains Palliative Support Service's palliative care volunteers support residents across the Blue Mountains both at home and in hospital settings.
"Claude Papesch's (Home Dying Support Association) organisation has morphed into other organisations…but the underlying principal is the same, that the person has choice, choice over which person they want looking after them and where and how they want to be looked after" Michael Farrell-Whelan a founding member of the original service that was named after an inspirational member of the Blue Mountains community.
"Thank you for making this a holistic service…at the moment we are only making it possible for 25% of people to dying at home and we want to bring that up to 70%…I want to work together to continue to help people, and to help more people, to die at home" Dr Alan Oloffs from Nepean Blue Mountains talking about the work of the Blue Mountains Palliative Care Volunteer service.
"I've been to a few of the Roundtables (ministerial consultations) and each community has a different approach to their community…its becoming clearer that every community needs to be approached differently and I think that there has been some 'ah ha' moments for health leaders" Linda Hansen EO of Palliative Care NSW talking about recent community initiatives in palliative care.
"People come (to volunteering) from a place of 'I want to leave something for my community'…some people come from a place of growth 'I'm not sure about this dying thing, I want to be open to the new experience'…(collectively it feels like) a palpable organic group that is going somewhere (through) the gradual accumulation of meaningful relationships" Boudi Maassen talking about his work in providing mentoring for volunteers.
"Its possibly the role that the parish priest played, talking about things that people found too confronting or too at odds with privileged society…so thank you for what you do…I'm seeing a much higher awareness of palliative care these days…I think there will be a lot of end of life issues at a national level that will come up over the next few years" Susan Templeman MP
"We can't stress enough the value of palliative care and the people who provide that support…to all of those who have had something to do with the Blue Mountains Palliative Support Service…it's absolutely critical that we acknowledge what you do, it is beautiful and it is important" Trish Doyle MP
"Thy firmness makes my circle just, / And makes me end, where I begun" Kath Harrison CEO of the Katoomba Neighbourhood Centre and former palliative care nurse quoting John Donne from 'A Valediction: forbidding Mourning'. "If there is a common terminal pathway it is our community, it is our people, it is our heart and soul".
Pic: Richard Jackson-Hope speaking as a receipient of the BMPSS service and also as President of the Springwood Hospital Auxilliary.
Become a member of Palliative Care NSW
Palliative Care New South Wales is the peak body in NSW representing palliative care providers and those with an interest in palliative care. Palliative Care New South Wales is a member of the national peak body Palliative Care Australia.
Join today and receive discounts, benefits and more!
Special member rate available for volunteers.
Subscribe to our eNews
Be the first to know our latest new, events, and research!
SUBSCRIBE TO ENEWS