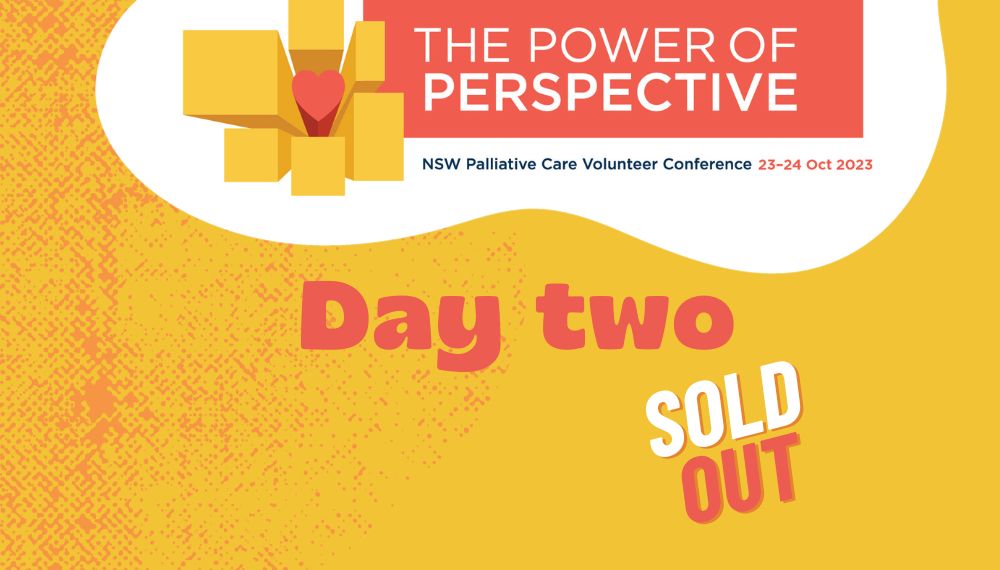 Tickets selling fast for the 2023 NSW Palliative Care Volunteer Conference
by Maria Lopez
September 26, 2023
The Volunteer Support Services Programme, Palliative Care NSW, and the NSW Network of Managers of Palliative Care Volunteers are very excited by how quickly tickets to to the 2023 Volunteer Conference have been selling.
Held across two days on 23 and 24 October 2023 at the RSL LifeCare ANZAC Village in Narrabeen, the conference has a lot to offer. We have designed the content to be suitable for new volunteers as well as those more experienced in their role and are confident there is something here for everyone.
At the time of writing, there are still a few places available in workshops.
Day 1 – Monday 23 October:
Workshop D – Biography Masterclass 1 ticket remaining
Workshop B – Understanding Dementia 6 tickets remaining
Day 2 -Tuesday 24 October:
Full day conference – completely sold out!
Please check the program for more information about the workshops. The Understanding Dementia workshop in particular would be valuable to aged care staff, pastoral care staff, and other health care workers or volunteers.
Please click HERE to register or visit the conference website for more information.
We look forward to seeing you all there.
Upcoming Events
DECEMBER 7, 2023
10:00 AM - 12:00 PM
NSW Network of Managers of Palliative Care Volunteer Services – December meeting & Christmas lunch
The role of the Network is to ensure best practice for NSW Managers of Pall...
Read more
Become a member of Palliative Care NSW
Palliative Care New South Wales is the peak body in NSW representing palliative care providers and those with an interest in palliative care. Palliative Care New South Wales is a member of the national peak body Palliative Care Australia.
Join today and receive discounts, benefits and more!
Special member rate available for volunteers.
Subscribe to our eNews
Be the first to know our latest new, events, and research!
SUBSCRIBE TO ENEWS