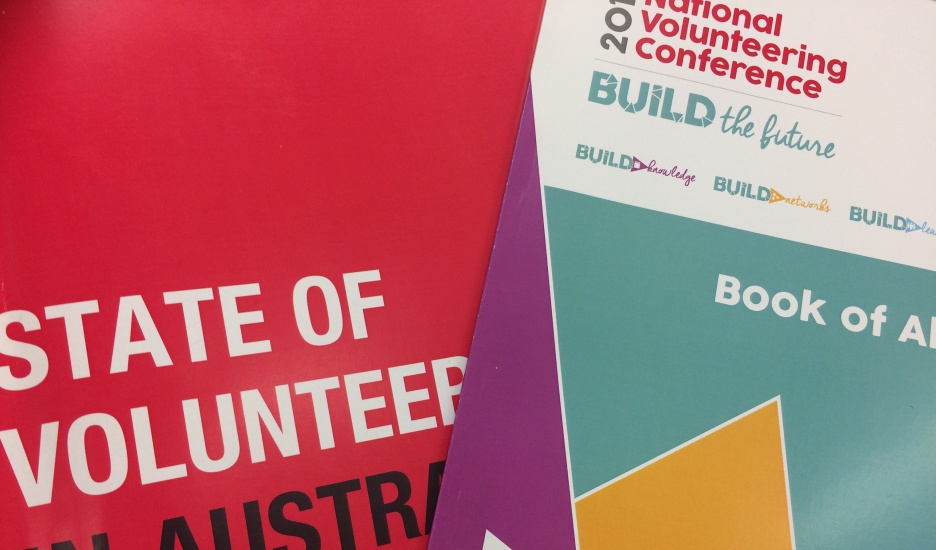 Launch of the National Volunteering Conference, BUILD the future
by Volunteer Hub
April 11, 2016
Staffer Julie Flood attended day 1 of the National Volunteering Conference in Canberra last week and passed-on this report:
More the 700 came to the National Volunteering Conference, BUILD the future, at the national Convention Centre Canberra, April 6-8 2016
The State of Volunteering in Australia report April 2016, Help Create Happiness, was launched  at this event.
Focussing on the future, this report details the trends, demographics , challenges and successes in the volunteering sector in Australia. The report highlights evidence provide in a major survey conducted by Volunteering Australia and PwC. As well as giving an analysis of the current state of volunteering in Australia, opportunities for maximising the potential of the volunteer workforce are identified.
The report addresses key questions:
Are the current volunteer engagement and management practices appropriate for the future?
Is there alignment between the types of roles volunteers want to undertake, the sectors they are interested in volunteering in, and the needs of volunteer involving organisations?
What is the appropriate framework to support informal volunteering?
What are the necessary steps that need to be taken to future proof volunteering>
Significantly, 99% of volunteers indicated they would continue to engage in volunteering in the future.
However, 86% of volunteer involving organisations are struggling to get the volunteers they need, with volunteers deterred by factors such as personal expense, red tape and a lack of flexibility, according to a report recently launched by Volunteering Australia at the National Volunteering Conference in Canberra.
There are seven specific key findings ranging from evidence of a disconnect between the volunteering roles that people are interested in and the roles that organisations are offering, the need for the creation of an informal volunteering platform and online methods of recruitment and volunteering could complement the needs of future volunteers.
For those interested in and serious about volunteering this report is essential reading. It is available for download from http://www.volunteeringaustralia.org/2016/04/2016-state-of-volunteering-in-australia/
Upcoming Events
UPCOMING
DECEMBER 7, 2023
10:00 AM - 12:00 PM
NSW Network of Managers of Palliative Care Volunteer Services – December meeting & Christmas lunch
The role of the Network is to ensure best practice for NSW Managers of Pall...
Read more
Become a member of Palliative Care NSW
Palliative Care New South Wales is the peak body in NSW representing palliative care providers and those with an interest in palliative care. Palliative Care New South Wales is a member of the national peak body Palliative Care Australia.
Join today and receive discounts, benefits and more!
Special member rate available for volunteers.
Subscribe to our eNews
Be the first to know our latest new, events, and research!
SUBSCRIBE TO ENEWS