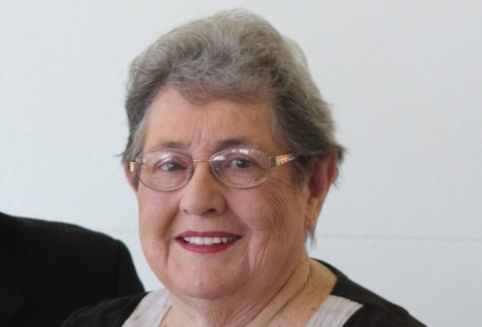 Ann Spillane and the Friends of St Vincent's in Lismore
by Volunteer Hub
July 21, 2015
Despite having served as the coordinator of volunteers for 33 years with The Friends of St Vincent's Hospital in Lismore, Ann Spillane says she likes to 'fly under the radar' when it comes to publicity.
The Friends of St Vincent's support the mission of the hospital through donations, volunteering and works. They operate an adjoining childcare centre aimed at staff and visitors, they perform garden maintenance and they run a shuttle service around the grounds of the hospital ('The Friends Mobile'). They have a cafe in the hospital, and they have a gift and bookshop in Lismore.
All of the activities are supported by volunteers. Ann herself is a volunteer and she puts in about 40 hours a week.
Of the 120 volunteers involved with The Friends, about 20 are involved in Palliative Care. The Palliative Care volunteers are involved in inpatient settings on the Palliative Care ward, in the St Joseph's residential aged care facility, and in the Wellness Program.
"We noticed that some people were missing out on parts of their meal, they couldn't open wrappers on the butter, they couldn't pour the tea, they just weren't able to with their fingers. So our volunteers in the Wellness Program help people to feed themselves when the food trays come around."
"We have a morning tea every month for volunteers and the nurse educator organises a speaker." Subjects have included diabetes and hand massage. Ann says that they are looking into the possibility of community-visiting volunteers.
Ann also serves as the President of the Friends of St Vincent's. She says that the simple philosophy of The Friends is to 'make people comfortable all the way' through their journey.
"The real message is about caring. We look for volunteers with a good heart. We find that once they've made a decision to give their time to others, they get so much out of it."
Upcoming Events
UPCOMING
DECEMBER 7, 2023
10:00 AM - 12:00 PM
NSW Network of Managers of Palliative Care Volunteer Services – December meeting & Christmas lunch
The role of the Network is to ensure best practice for NSW Managers of Pall...
Read more
Become a member of Palliative Care NSW
Palliative Care New South Wales is the peak body in NSW representing palliative care providers and those with an interest in palliative care. Palliative Care New South Wales is a member of the national peak body Palliative Care Australia.
Join today and receive discounts, benefits and more!
Special member rate available for volunteers.
Subscribe to our eNews
Be the first to know our latest new, events, and research!
SUBSCRIBE TO ENEWS