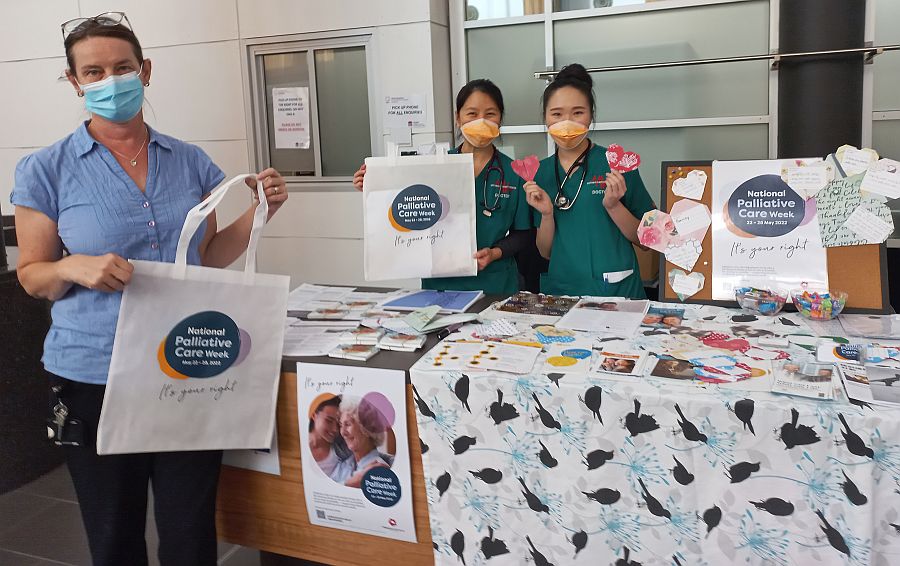 Written on the heart
by Kate Bowman
May 26, 2022
Today, in celebration of National Palliative Care Week this week the Palliative Care team at Blacktown Hospital will be taking over the foyer with paper hearts.
This week across the Western Sydney Local Health District (WSLHD), visitors, staff and volunteers are being asked to express what they believe their 'rights' to be in receiving palliative care by writing on paper hearts what they would want if they were facing their end of life.
The theme of National Palliative Care Week this year is 'It's your Right', a sentiment that was reiterated this week by WSLHD director of Supportive and Palliative Medicine, Dr Sally Greenaway.
"Palliative Care is about living your best life no matter what," said Sally.
"One of the great myths about palliative care is that it is only end-of-life care, but it is so much more than that; anyone with a life-limiting illness has the right to live as well as possible, for as long as possible."
Access to timely palliative care allows people with a life-limiting illness to keep doing what they love with friends and family. Palliative care is also about supporting the loved ones of those approaching end of life by helping them to live through their grief and bereavement.
At Westmead hospital, volunteers are manning a stand full of information and resources about palliative care, chatting with passers-by and encouraging them to write on a paper heart. Volunteers play an important role in advancing health literacy, especially during National Palliative Care Week.
WSLHD Palliative Care Staff Specialist Dr Clare Zachulski, is passionate about patient rights and the role of palliative care clinicians in ensuring these rights as people near the end of life.
"It supports people to spend more time doing the things that matter most to them. Palliative care really is so much more than end-of-life care!"
Main photo: Kylie Clark, Volunteer Manager Palliative Care (left) with Doctors Bernadette, AT and Dr Monica PC Registrar at Blacktown hospital.
Photo below: Volunteers at Westmead Hospital spruiking palliative care today during National Palliative Care Week
Upcoming Events
DECEMBER 7, 2023
10:00 AM - 12:00 PM
NSW Network of Managers of Palliative Care Volunteer Services – December meeting & Christmas lunch
The role of the Network is to ensure best practice for NSW Managers of Pall...
Read more
Become a member of Palliative Care NSW
Palliative Care New South Wales is the peak body in NSW representing palliative care providers and those with an interest in palliative care. Palliative Care New South Wales is a member of the national peak body Palliative Care Australia.
Join today and receive discounts, benefits and more!
Special member rate available for volunteers.
Subscribe to our eNews
Be the first to know our latest new, events, and research!
SUBSCRIBE TO ENEWS