The Volunteer Perspective: Volunteering Australia research project.
by Maria Lopez
October 25, 2022
The Volunteering in Australia research project, is part of the the development of the National Strategy for Volunteering, and it is led by Volunteering Australia.
Volunteering Australia has published a report from a research in which volunteers and organisations have been consulted.
The report shows that Volunteering is declining and presents a full picture with the reasons and actions that can be taken to increase participation in volunteering.
The volunteering rate of both women and men fell during the COVID-19 period. For
women it fell from 38.1 per cent in late 2019 to 28.6 per cent in April 2022 and for men it
fell from 33.8 per cent to 24.7 per cent.
The rate of volunteering fell between late 2019 and April 2021 for all age groups. The biggest decline was amongst those aged 45 to 54 years, with an almost halving of the rate of volunteering for this age group (a drop from 39.4 to 21.4 per cent). Between April 2021 and April 2022 for all age groups there was either no change or a small increase in volunteering rates. The rate of volunteering in April 2022 was lower than the
pre-COVID-19 rate for all age groups.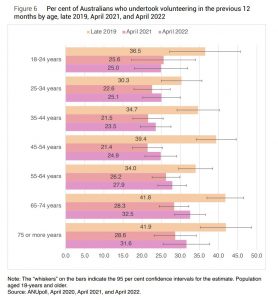 Above data is from the Volunteering in Australia research launched on Monday 17 October. You can access the presentation slides and event recording below.  (Source www.volunteeringstrategy.org.au)
By clicking on links below, you can also access and download research papers.
Upcoming Events
UPCOMING
DECEMBER 7, 2023
10:00 AM - 12:00 PM
NSW Network of Managers of Palliative Care Volunteer Services – December meeting & Christmas lunch
The role of the Network is to ensure best practice for NSW Managers of Pall...
Read more
Become a member of Palliative Care NSW
Palliative Care New South Wales is the peak body in NSW representing palliative care providers and those with an interest in palliative care. Palliative Care New South Wales is a member of the national peak body Palliative Care Australia.
Join today and receive discounts, benefits and more!
Special member rate available for volunteers.
Subscribe to our eNews
Be the first to know our latest new, events, and research!
SUBSCRIBE TO ENEWS