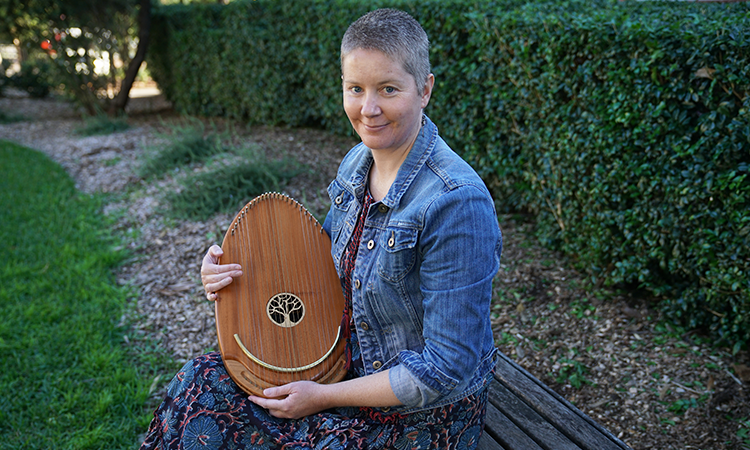 The soothing sounds of the reverie harp
by Kate Bowman
August 12, 2021
Have you heard the sound of a reverie harp? What's special about a reverie harp is that it is just so easy to play. Even people with no musical skills can learn how fill a room with it's beautiful soothing sounds.
In late 2019, Carolyn Wilkinson Volunteer Coordinator for the Palliative Care Volunteer Services in Nepean Blue Mountains LHD, procured two Reverie Harps for use by her volunteers providing support to patients and their families and carers. The plan was to give them face-to-face training in the harp but the arrival of COVID-19 halted those plans.
So in 2020, it was proposed a self-learning resource for the Harp be developed. Registered Music Therapist Lucy Morgan collaborated with co-founder of the Harp, Peter Roberts from Roberts Music. A particular aim was to showcase its accessibility particularly for non-musical persons, and to complement pre-existing harp applications already established by Roberts Music as showcased on their website. They decided that over over a three month period volunteers join in a series of Zoom sessions focusing not only on how to play the reverie harp, but understanding its use and potential in the palliative care space.
Lucy has carefully edited these Zoom sessions into a 25 minute long self-learning package which is now available for use by others in the Palliative Care Volunteer Network. It is an online resource suitable for people with any level of musical experience, even those with no prior experience at all.
"Even though volunteers are not trained to provide music therapy as such, music is still a useful tool to help build rapport and trust with their clients", says Lucy, "When words run out, music can fill the space. It provides an opportunity to just stop and sit and listen."
"Unexpectedly, we discovered that volunteers have found another way of using the Reverie Harp – for their own self-care," Lucy said, "With the stress of living through a pandemic sitting on top of the caring responsibilities of volunteering, the Reverie Harp has become a tool that can also help them decompress and unwind at home after a long day".
Carolyn and Lucy will be presenting on their Reverie Harp resource, Music over the airwaves – Development of a self-learning resource for the Reverie Harp, at the Oceanic Palliative Care Conference in September. Members of PCNSW are offered a $150 discount to encourage conference registration.
Palliative Care NSW is delighted to help make this resource more easily available. Please click here for more information and link to the resource.
Image: Clare Steward volunteers with the Nepean/Hawksbury Service and participated in the Reverie Harp Self-learning Package program.
Upcoming Events
UPCOMING
DECEMBER 7, 2023
10:00 AM - 12:00 PM
NSW Network of Managers of Palliative Care Volunteer Services – December meeting & Christmas lunch
The role of the Network is to ensure best practice for NSW Managers of Pall...
Read more
Become a member of Palliative Care NSW
Palliative Care New South Wales is the peak body in NSW representing palliative care providers and those with an interest in palliative care. Palliative Care New South Wales is a member of the national peak body Palliative Care Australia.
Join today and receive discounts, benefits and more!
Special member rate available for volunteers.
Subscribe to our eNews
Be the first to know our latest new, events, and research!
SUBSCRIBE TO ENEWS