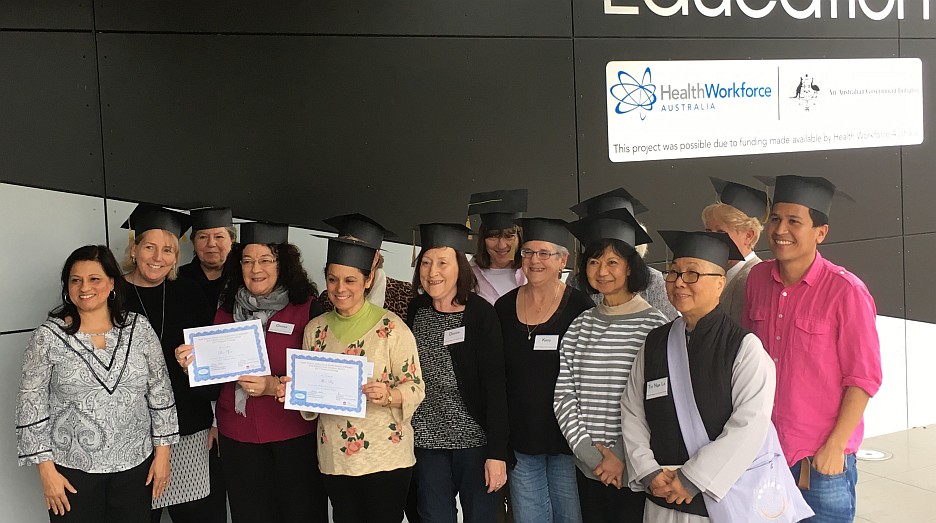 New volunteers visiting South Western Sydney community
by Volunteer Hub
June 28, 2017
What do a Buddhist nun, a South American doctor, a former Director of Nursing, a retired school teacher and a journalist have in common?
They are part of a group of 13 volunteers who celebrated the successful completion of their training elements prior to joining the ranks of palliative care volunteers in South Western Sydney Local Health District (SWSLHD).
Palliative Care Volunteer Coordinator Arlene Roache said that recruitment for the group had deliberately focussed on people interested in visiting patients and family in the community.
"We are getting a lot of referrals for community support. We are really excited about seeing more volunteers being willing to support people and families in the community".
SWSLHD Area Palliative Care and Service Development Manager Janeane Harlum awarded certificates and acknowledged the diversity of the candidates and the importance of their contribution to palliative care.
Alex Huntir and Kate Bowman attended from the Palliative Care NSW Volunteer Support Services Programme. PCNSW President Therese Smeal attended in her role with SWSLHD.
SWSLHD stretches from Bankstown to Bowral including the rapidly growing areas around Campbelltown, with a population catchment of some 990,000 people (estimated for 2017). Click here for more information about the SWSLHD Palliative Care Volunteer Service or to enquire about volunteering.
Volunteers are welcome to join Palliative Care NSW and take advantage of member benefits. Click here for more information.
Pic: Volunteer Coordinator Arlene Roache (L) with graduates at the Ngara Education Centre attached to Liverpool Hospital.
Become a member of Palliative Care NSW
Palliative Care New South Wales is the peak body in NSW representing palliative care providers and those with an interest in palliative care. Palliative Care New South Wales is a member of the national peak body Palliative Care Australia.
Join today and receive discounts, benefits and more!
Special member rate available for volunteers.
Subscribe to our eNews
Be the first to know our latest new, events, and research!
SUBSCRIBE TO ENEWS