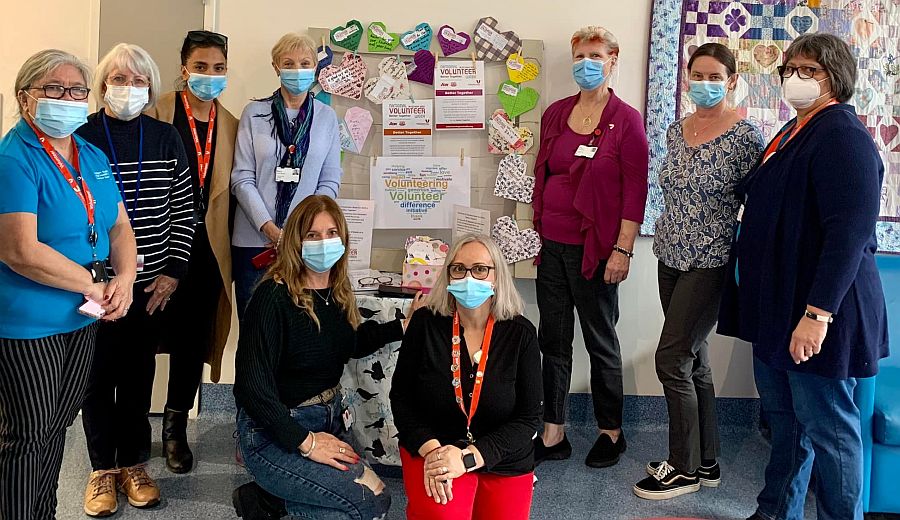 Mt Druitt Palliative Care unit morning tea
by Kate Bowman
May 19, 2022
A morning tea was held ta Mount Druitt Supportive and Palliative Care Unit to celebrate National Volunteer Week for the volunteers of the Western Sydney Palliative Care Volunteer Service.
Each volunteer received a goodie bag, as well as those volunteer who have been with the service for 5 years receiving a 5 year pin and Length of Service certificate.
The service which was established 6 years ago has been able to maintain its provision of compassionate care to palliative patients across Western Sydney during Covid by being flexible and adaptable. Volunteers continued to phone patients at home and keep in contact through the Facebook page and Zoom.
Now the volunteers are back at Mount Druitt, Blacktown Cancer Care and Westmead Medical Oncology, and with the induction of 10 new voluteers in April, more support will be available for the patients and their families.
Messages of thanks were written by staff, carers and patients on hand made origami hearts and displayed in the Unit through out the week.
Upcoming Events
UPCOMING
DECEMBER 7, 2023
10:00 AM - 12:00 PM
NSW Network of Managers of Palliative Care Volunteer Services – December meeting & Christmas lunch
The role of the Network is to ensure best practice for NSW Managers of Pall...
Read more
Become a member of Palliative Care NSW
Palliative Care New South Wales is the peak body in NSW representing palliative care providers and those with an interest in palliative care. Palliative Care New South Wales is a member of the national peak body Palliative Care Australia.
Join today and receive discounts, benefits and more!
Special member rate available for volunteers.
Subscribe to our eNews
Be the first to know our latest new, events, and research!
SUBSCRIBE TO ENEWS