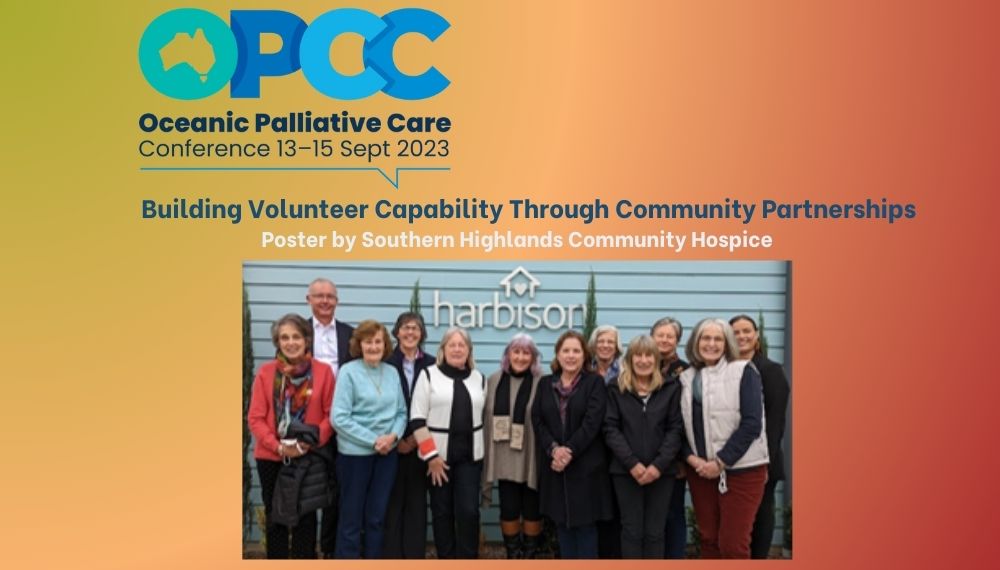 Building Volunteer Capability Through Community Partnerships
by Maria Lopez
September 18, 2023
The Southern Highlands Community Hospice (SHCH) recently presented a poster at the Oceanic Palliative Care Conference, held on 13th to 15th September 2023.
SHCH funds a range of palliative care services for people of the Southern Highlands. Services to date have included pharmaceutical support, in-the-home Palliative Care Nursing and Carer Support, equipment hire and biography service.
Their current initiative, over the last year, in partnership with Palliative Age Care Consultancy Service (PACCS) has been to train 20 palliative care volunteers. Their training is based on the Palliative Care NSW Palliare Handbook and delivered in three sessions by a palliative care nurse. Volunteers are then rostered to support residents of Harbison Care Aged Care Facility. Residents identified to be supported are at end of life and often have little family support.
The SHCH model for recruiting volunteers, their training and ongoing volunteer support is the core of the poster presentation.
A brief outline of the memorandums of understanding with local organisations, that have resulted in strong community partnerships and our sustainable volunteer workforce, is also a focus.
To read their poster in full size, please click
HERE
.
Upcoming Events
UPCOMING
DECEMBER 7, 2023
10:00 AM - 12:00 PM
NSW Network of Managers of Palliative Care Volunteer Services – December meeting & Christmas lunch
The role of the Network is to ensure best practice for NSW Managers of Pall...
Read more
Become a member of Palliative Care NSW
Palliative Care New South Wales is the peak body in NSW representing palliative care providers and those with an interest in palliative care. Palliative Care New South Wales is a member of the national peak body Palliative Care Australia.
Join today and receive discounts, benefits and more!
Special member rate available for volunteers.
Subscribe to our eNews
Be the first to know our latest new, events, and research!
SUBSCRIBE TO ENEWS